Marv's Sanitary Service can service your business or rental unit with rear load dumpsters or carts. We also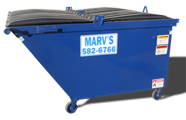 offer recycling services to our commercial customers.
We provide dumpsters that are 1.5, 2, 3, and 6-cubic yards in size.
COLLECTION SCHEDULE:
Recurring service, and/or "on-call" collections are both available. Scheduled recurring collection is available from once a month up to 6 days a week, Monday through Saturday.
Costs vary based on container size, collection frequency, and type of waste.
RECYCLING
Recycle service is available to all our commercial customers upon request.

Types of material to be recycled:
Corrugated Cardboard
Mixed Paper
Metal Food/Beverage Cans (aluminum and steel/tin)
Glass Bottles and Jars
Plastic Bottles/Containers
Containers available for the deposit of recyclables:
Wheeled Tip Carts: 96-gallon
Dumpsters:1.5, 2, 3, and 6-cubic yard
Note: Containers are sized based on material generation and space limitations.

Collection Schedule:
Scheduled, recurring collection is available Monday through Friday.
"On-Call" collection may also be arranged.
Costs vary based on the type of recyclable material, container size, and collection frequency.