For over 50 years, Marv's Sanitary Service has been earning the trust of its customers throughout the area. Over these last 5 decades, we've tried to be true to very basic principles that we firmly believe in: trust, commitment, communication – and above all else – integrity. We specialize in the collection and transportation of waste and recyclables using clean and efficient methods. Our goal is seamless, efficient service for our customers. We work with the Sioux Falls Regional Sanitary Landfill and recycling facilities to ensure the proper handling of waste and to maximize recycling participation. Our service area is Brandon, Corson, Rowena, Valley Springs and all of Minnehaha County east of 478th Ave. and south of 258th Ave.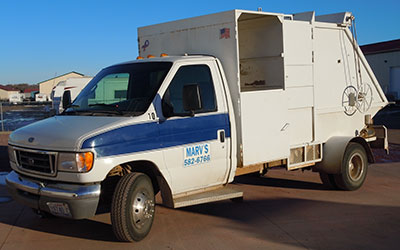 Marv's Sanitary Service provides residential service within the city limits of Brandon, Corson, Valley Springs and Rowena, plus all of Minnehaha County East of 478th Ave and South of 258th Ave.
» EXCESS GARBAGE
» COLLECTION SCHEDULE
» HOLIDAY COLLECTION SCHEDULE
» RECYCLING INFORMATION
» RECYCLE COLLECTION SCHEDULE
» HAZARDOUS WASTE
» ELECTRONICS
» PAINT AND CHEMICALS
» NEEDLE DISPOSAL
» TREE BRANCHES
» YARD WASTE / COMPOST SERVICE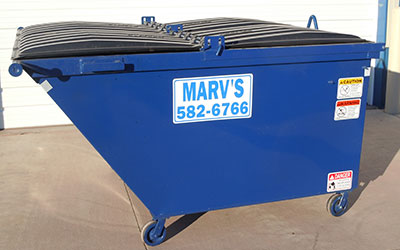 Marv's Sanitary can service your business or rental unit with rear load dumpsters or carts. We also offer recycling services to our commercial customers.
We provide dumpsters that are 1.5, 2, 3, and 6-cubic yard.
Marv's Sanitary is dedicated to a cleaner environment and we have worked hard to make recycling easier and more convenient for all our customers. We provide Single Stream Recycling, which means NO SORTING.